These are the projects we are working on.
Continental FoF: Continental AA's Factory of the Future

The "Continental FoF" R&D Project aims to generate new technical and scientific knowledge to the development of new high technological intensity products that will be integrated in order to create the new Factory of the Future for Continental Advanced Antenna, which intends to address the complex challenges arising from the new technological requirements expected for the future generation vehicles.
Therefore, this Project aims to contribute to the advanced of the industry and the technical-scientific community (at national and international level), through the conceptualization, research and development of new technological solutions that, upon their integration, will enable the total detachment of the factory-floor and the creation of a new advanced and intelligent manufacturing process, in terms of flexibility, modularity and capability of mass customization; highly efficient digital connectivity throughout the all the facilities' environment; dynamic data performance in real-time collection, reading, treatment and interpretation of data; autonomous and intelligent decision making process, based on artificial intelligence algorithms); Human-Machine symbiosis; Human-Factory symbiosis; and equally dynamic and interactive logistic processes that assures a full and efficient quality control process at all times.
SMARTCUT - Remote Diagnosis, Maintenance and Simulators for Training Forest Machine Operation and Maintenance

The maintenance costs of forest machines constitute one of the most relevant elements in forest operations. However, in most situations, the higher cost does not come from the repair itself but from the machine's downtime and the impact this stop could have on the service chain, leading to the stoppage of downstream equipment due to lack of supply. 
The project focuses on designing and developing a CAN technology-based forestry equipment sensing solution, which allows the execution of remote diagnosis, telemaintenance and forest monitoring tasks by the company producing the equipment and/or its representatives in each country of operation. It also focuses on designing and developing an innovative virtual training scenario authoring tool that will take advantage of a physical simulator/emulator to recreate, via virtual reality, the operation and malfunction conditions of equipment and, simultaneously, the urographic and physical features found in the terrain.
LITHME: Language In The Human-Machine Era

LITHME has two aims: to prepare linguistics and its subdisciplines for what is coming; and to facilitate longer term dialogue between linguists and technology developers. How will pervasive augmentation technology affect language in areas such as international law, translation, and other forms of language work? What will this mean for how people identify with specific languages? Could increasing reliance on real-time language technologies actually change the structure of language? Longer term, could developments in brain-machine interfaces serve to complement or even supersede language altogether? Linguistics will be far stronger for robust technological foresight, while developers will benefit from better understanding potential linguistic and societal consequences of their creations.
Meanwhile LITHME will shine a light on the ethical implications of emerging language technologies. Inequality of access to technologies, questions of privacy and security, new vectors for deception and crime; these and other critical issues would be kept to the fore. LITHME will equip linguists and stakeholders for the human-machine era.
INCLUDING - Innovative Cluster on raDIological and Nuclear emerGencies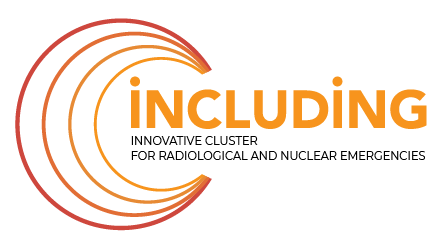 INCLUDING is seek to provide a full-fledged and comprehensive training in the RN security sector at European level. Starting from the existing training resources of the Partners in the Consortium, in most cases developed in the framework of EC projects, INCLUDING aims to enhance practical know-how and to boost a European sustainable training and development framework for practitioners in the RN Security sector. Far from being a simple aggregation of entities separated geographically and with complementary expertise, INCLUDING is intended to be a cluster of facilities and resources pursuing a Federated Model in which individual components will cooperate together to provide a common framework for optimizing the exploitation of all the potentialities available in the Cluster.
Technology and Education - VR and Language learning/teaching
The project on Technology and Education comprises the very research on the fields of VR and language learning and teaching, more exactly EFL language and learning. The educational reality has been a tremendously demanding area and traditional teaching and didactic methodologies are challenged by the more contemporary and ever-evolving approaches as offered by the present day context where technology plays an enormous role. More exactly, VR is addressed as a potential didactic tool and its resources are thought of to facilitate the very activities of both teaching and learning regarding EFL and other languages.
PromoTourVR - Promoting Tourism Destinations with Multisensory Immersive Media
Based on the activities already developed in the design of artifacts related to wine tourism and VR and the previous project entitled DouroTur ICDT project (PONORTE 2020) with the creation of a prototype with immersive multisensory contents as innovative support to tourism activities in Douro region, it is intended to develop the promotion of the tourism associated offer in an innovative and differentiated way through the use of VR and immersive contents. The development of a case study focused on the promotion of Douro region as a tourism destination, through the use of immersive contents will allow: to evaluate the behavioral intention of acceptance of multisensory immersive contents in mobile devices for promotion of this tourism destination; to make a comparison between the image of the destination induced by the immersive contents with that resulting from other digital content; to analyze the impact caused by VR in the formation of tourism destination image compared to that formed through a real visit.
PAINTER - Procedurally assisted INTErchangeable reality
With the democratization of the use of virtual and augmented reality devices a totally new way of creating and visualizing 3D environments has emerged. This presents a challenge for media content providers, to game developers, to technology-mediated industry and multimedia consumers in general. PAINTER will design and implement a framework for the assisted creation and edition of virtual environments to be used collaboratively in Virtual Reality (VR) and Augmented Reality (AR). The main solution is based in a central virtual simulation system capable of accepting connections with several AR-VR headsets, smartphones and interaction devices. This framework will be divided in three modules: Content edition in VR, Interaction VR-AR and Procedural content generation. The goal is to explore new interaction paradigms for editing content inside VR with the assistance of AR markers and procedural content generated algorithms. 
PERFECT: Perceptual Equivalence in virtual Reality For authEntiC Training
PERFECT aims to be the first step towards the creation of highly reliable multisensory virtual environments for training and simulation that deliver Perceptually Equivalent stimuli and thus enable the certification of trainees using only Virtual Reality (VR) technologies.
Although many applications do not need a high degree of realism for the user to accomplish his/her task successfully, without the authenticity, such Believable Virtual Environments (BVEs) are only capable of delivering "mission familiarity" rather than actual world experience. In BVEs, some real-world phenomena may be missing, or the physics not accurately simulated which could lead to different knowledge acquisition in the virtual experience than is required in reality. For example, not including the smell of a burning cable behind a control panel may provide the user in the virtual experience with a false sense of wellbeing, which would most certainly not be the case in the real world.
This project represents a multidisciplinary approach where the existing knowledge within the research team can be explored to its full potential from the computer science, psychology and biomedical fields. By achieving the PERFECT objectives, we will be a step closer to achieve our long-term goal and thus have an important impact on how virtual reality can help people to train in a safer and affordable way while making sure they will perform as expected when faced with a real situation.
CHIC: Cooperative Holistic view on Internet and Content

The CHIC – project, aims to develop, test and demonstrate a wide range of new processes, products, and services that have a significant impact on the audiovisual and multimedia sectors. These products by their nature will have a clear mobilizing effect on other important sectors of culture such as the cultural heritage, archives, books, and publications or the performing arts.

Designation of the project: CHIC – Cooperative Holistic View on Internet and content
Project Reference:
Main Goal: 
Region of Intervention:
Beneficiary Entity:  INESC TEC – Instituto de Engenharia de Sistemas e Computadores, Tecnologia e Ciência | MOG Technologies | Altice Labs | Associação CCG/ZGDV | Avenida dos Aliados | Cinemateca Portuguesa | Clustermedia Labs | Enigma Virtual | Global Notícias | Golfmark | Ideias e Conteúdos  | ISEP – Instituto Superior de Engenharia do Porto | Novos Mares | OSTV | Sistrade | TICE.PT | Tipografia Tadinense | Universidade de Aveiro | Universidade Aberta | Universidade Católica Portuguesa | Universidade do Porto | Universidade de Ttrás-os-Montes e Alto Douro | VMUSE | YOUON Consulting
Approval Date:
Start Date: 01-10-2017
End Date: 30-09-2020
Total Eligible Cost: 5.888.769,85 €
European Union Funding:
National/Regional Funding:
Objectives, activities, and results:
CHIC – Cooperative Holistic view on Internet and Content is a 3-year project, promoted by 24 partners from the business sector and the research and innovation system, which corresponds to a total investment of around 9.5 million Euros, financed under the Operational Programs COMPETE 2020 and Lisbon 2020, by the Portugal 2020.   The project's general objective is to develop a set of products, services, and systems, based on open and interoperable platforms, with the following specific objectives:
To promote the migration of current capture, production, management, content delivery systems to a Cloud-based paradigm, allowing the creation of flexible workflows, open systems, and new business models;
To value, at a national and international level, the Portuguese historical and cultural heritage, through the introduction of new methodologies and technological artifacts of preservation, facilitation of access and interaction;
To improve the quality of service and end consumer content experience, including the creation of new immersive and augmented environments.
HDR4RTT - HDR for Real-time tracking
Tracking multiple objects, in real time, using computer vision algorithms is a very demanding and challenging task especially when trying to accomplish it in extreme lighting conditions. This project will research and develop new high dynamic range (HDR) algorithms to robustly track and display, in real-time, multiple objects in extreme lighting conditions in order to deliver a step change in the quality of the information extracted from video data.
SIMPROVE - Biomedical Simulation Center of The Future
The SIMPROVE project's fundamental purpose is to significantly raise the state of the art in the field of simulation and training of health-care professionals. The project is aimed at developing a new technological architecture for the current STI MEDICAL system that supports the operation of simulation centres and team training of health-care professionals. This system was initially developed in the Netherlands, in the first decade of the current century, and is now considered one of the world's most advanced system in this field.
With the SIMPROVE project, we intend to create an architecture and a simulation methodology that clearly assert themselves as more flexible, modular, automated and realistic than the currently available ones as well as a new type of serious games (based on a multiplayer model) supported by a set of tools aimed at creating new simulation and training scenarios (scenario editor) and serious games (serious games editor) which will constitute the basis of the "Biomedical Simulation Centre of the Future". If these developments are achieved, they will allow the project promoter-leader (STI MEDICAL) to significantly improve and expand its current portfolio worldwide, its co-promoter (INESC TEC) to stand out in providing solutions for simulation and serious games development and its co-promoter (FMUP) to consolidate its national leading role in biomedical simulation and medical education.
DouroTur - Tourism and Technological Innovation in the Douro

DouroTur seeks to bridge the gap between the potential of tourism in the Douro and its technological development through the production of scientific knowledge capable of showing how to maximize the benefits of tourism, stimulate the local economy and diminish negative effects. This approach emphasizes a systemic, territorial and integral perspective of tourism as a complex human activity. The research follows an interdisciplinary approach to tourism and a mixed, qualitative and quantitative methodological design that will allow us to gather a very deep knowledge and a thorough diagnosis of tourism in the Douro region. Our contribution to this project is the development of digital marketing tools to support the growth of tourism in a responsible and sustainable manner.
TEC4Growth - FourEyes Research Line

The MASSIVE laboratory is also co-funded by the North Portugal Regional Operational Programme (NORTE 2020), under the PORTUGAL 2020 Partnership Agreement, and through the European Regional Development Fund (ERDF) as a result of the work in RL2 FourEyes of the project TEC4Growth – Pervasive Intelligence, Enhancers and Proofs of Concept with Industrial Impact/NORTE-01-0145-FEDER-000020.
FourEyes aims to make crucial and tangible advances in the digital media sector, the scientific community and in media‐related areas of application or markets, by promoting the exchange of knowledge among researchers with different backgrounds. It will provide the means for scientific, creative and industrial communities to understand how new forms of multimedia content can improve our way of life and be used to produce innovation when in a symbiotic relationship with intelligent processing. It is widely accepted that interactive media plays an ever more important role not only in the cultural industry but in almost all aspects of socioeconomic life, improving each day through increased pervasiveness. Virtual and immersive environments with the ability to engage multiple senses are also emerging.

Designation of the project: TEC4Growth – Pervasive Intelligence, Enhancers and Proofs of Concept with Industrial Impact
Project Reference: NORTE-01-0145-FEDER-000020
Main Goal: Strengthen research, technological development, and innovation.
Region of Intervention: Porto/Vila Real
Beneficiary Entity: INESC TEC – Instituto de Engenharia de Sistemas e Computadores, Tecnologia e Ciência
Approval Date: 03-05-2016
Start Date: 01-07-2015
End Date: 31-12-2018
Total Eligible Cost: 3.790.261,97 €
European Union Funding: FEDER – 3.221.722,67 €
National/Regional Funding: N.A.
Objectives, activities, and results:
The TEC4Growth addresses both the theoretical and fundamental developments required to implement and take advantage of a foreseen predominance of intelligent systems in all sectors of the society.
This project is structured in the following Research Lines (RL):
RL 1 – "SMILES": uses the transportation environment as a testbed, focused on IoT (Internet of Things) as an enhancer of the intelligence concept. Its advances will be relocated onto the other research lines and the three become connected not only from a conceptual point of view but also in the approach and tools.
RL 2 – "IMAN": targets the manufacturing industries
RL 3 – "FOUREYES": targets the media and creative industries.
MASSIVE - Multimodal Acknowledgeable multiSenSorial Immersive Virtual Environments

MASSIVE conducted a detailed investigation on how to reach an acknowledgeable virtual environment in order to stimulate a user's five senses and achieve a high immersion. It studied, at a fundamental level, how perceptual issues affect the delivery of the five senses: visuals, audio, smell, tast, and feel (temperature, wind-flow, humidity and motion). In order to measure the impact of each sense in the VE experience, the assessment was carried out using objective evaluation of data such as heart rate and skin humidity, among other more subjective methodologies like example surveys that tested whether the experience was immersive or not.
The MASSIVE laboratory was financed by the ERDF – European Regional Development Fund through the COMPETE Programme (operational programme for competitiveness) and by National Funds through the FCT – Fundação para a Ciência e a Tecnologia (Portuguese Foundation for Science and Technology) within project «RECI/EEI-SII/0360/2012».